Firm Profile
The Meisei International Patent Firm covers a wide array of technical fields. With each attorney continually expanding and deepening their ability and experience in their field of expertise, we are able to constantly possess a deep understanding of all technical matters.
Outline
Firm Name

Meisei International Patent Firm
Establishment

April 2, 1990
Address

Fujifilm Nagoya Bldg. 12F,1-12-17,Sakae,Naka-ku,Nagoya,460-0008 JAPAN[Map]
Phone

+81-52-218-5061
Fax

+81-52-218-5064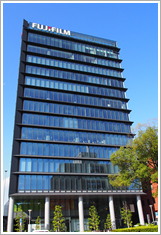 Main clients of meisei ip firm
・SEIKO EPSON CORPORATION
・ZENRIN CO., LTD.
・ZENRIN DataCom Co., Ltd.
・DENSO WAVE INCORPORATED
・Toyoda Gosei Co., Ltd.
・TOYOTA MOTOR CORPORATION
・BUFFALO INC.